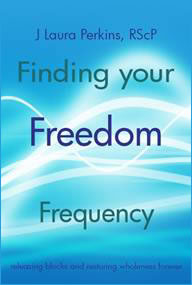 A life of high-frequency thinking patterns and emotions is a life of true freedom.
The Freedom Frequency Process, FFP, is a pragmatic approach to developing healthier, high-frequency thinking and emotional habits in day to day life. With practice, the individual "re-programs" the underlying beliefs that determine life experience.
Most of us have tried affirmations at one time or another—with more or less success. In this remarkable book, Science of Mind Practitioner Laura Perkins shows us how to choose the affirmations that work for us and how to apply them in a way that makes a powerful, almost immediate difference in our lives.
This book integrates several proven methods and theories and provides examples of how they have worked in peoples' lives.

Laura Perkins, RScP